Updates and News
1-30-2005
Happy New Year, Everyone!
I'm very happy to announce the completion of the newest Robota teaser - Teaser 4. My deepest appreciation and thanks to my many good friends at Attitude Studios in Paris, France for their amazing work. Special thanks to Stephane Marty and Jerome Desvignes! Click here to view it.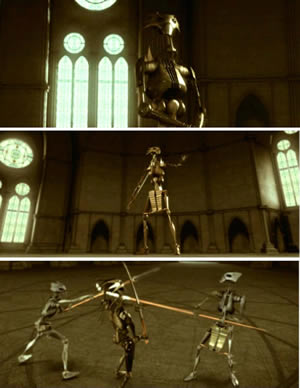 Since my last update, a lot has happened. I've formed a new company called IceBlink Studios, co-founded with my good friend Steve Perlman to do film designs and animation for feature films and games. We've been very busy the past 7 months working on Columbia Pictures' MONSTER HOUSE as well as Paramount Pictures' WAR OF THE WORLDS with Steven Spielberg. We've grown a bit too since then and now total 15 artists in–house. Please check out our web site for more info at www.iceblink.com.
I'm also happy to report that the Sony Imageworks Robota game continues to go very well. I'll be making a presentation at the Game Developers Conference this March to talk about the work we did on POLAR EXPRESS so look for some announcements soon. During the conference, we'll be able to share more development news on the Robota game.
Hope you enjoy the newest teaser! Stay tuned for more news soon.
Cheers,
Doug
1-30-2005

Previous Update